"

A COMFORTABLE, INVITING SPACE

"
The Robert and Judi Prokop Newman Alumni Center is a centerpiece of magnificent architecture in its location on the corner of Brescia Ave. and Hurricane Drive in Coral Gables. The four-story, 70,000 square-foot center, facing Alex Rodriguez Park at Mark Light Field, has been designed by world-renowned architect Michael Dennis to represent a unique setting for alumni, students and friends of the University of Miami to congregate in grand and intimate settings.
ARCHITECTURE
The design of the Alumni Center intends to reflect its setting, not simply replicating any discernable style. Incorporated into the design are opposing elements that create a comfortable, inviting space that is equally moving and powerful: courtyards with pergolas, stone and glass walls, wood beam ceilings and paneling, stone floors and fountains.
"This building should not be flown in from a corporate office park," Dennis said. "It should be more like a house or a villa. In a climate like this, colonnades, promenades, and courtyards are part of the program."
A dominant tradition of the University of Miami's architectural theme is the international style that was begun in the late 1940's: linear exterior walls with deeply shadowed thin windows, which are prevalent in the Alumni Center. Echoing the classic elements of South Beach's art moderne hotels, the curved entrance and interior elements create a memorable and unique atmosphere.
Through the outstanding efforts of the architects, engineers and contractors, the Newman Alumni Center has received the following certifications and awards:
LEED Gold certification

LEED, or Leadership in Energy & Environmental Design, is a green building certification program that recognizes best-in-class building strategies and practices. To receive LEED certification, building projects satisfy prerequisites and earn points to achieve different levels of certification.

2011 City Beautiful Award for Outstanding Exterior Design

Coral Gables Chamber of Commerce
ABOUT THE DESIGN ARCHITECT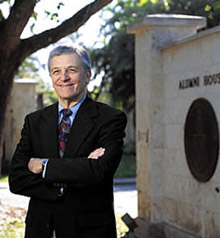 Michael Dennis, Boston-based architect and professor at the Massachusetts Institute of Technology, infuses warmth and personal touches in his architecture to create an environment where people gather because they want to, not because they have to.
"There are many ways-some fun and some more serious-to make a building unique and give it personality," said Dennis, who has designed a number of masterful university buildings in his career over the past 30 years.
His most recent works have been the Science/Technology Building at Syracuse University and the first buildings in the extensive plan for Carnegie Mellon University.
ABOUT THE PROJECT ARCHITECT
Headed by UM alumnus Rolando Conesa, B.Arch. '82, MGE Architects, are planners and interior design professional who contribute to Florida's major institutional facilities through creative design, while reaching the defined functional goals and image requirements of each client. "As many of our principals and associates are graduates of the University of Miami, it is a great honor for us to be selected to work on one of its signature campus buildings," said Rolando Conesa, A.I.A., a principal with MGE Architects. "We have a significant portfolio of academic centers that we have completed and look forward to applying our expertise to this exciting project." Among other projects completed for the University of Miami, are the Hurricane 100 Room, Presidential Office Suite and the Lois Pope LIFE Center at the Medical Campus.